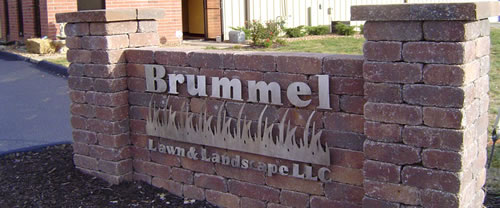 At Brummel Lawn & Landscape LLC we are proud of our customer service. We make customer service our number one priority. We have a 24 hour, 7 day week phone line, where we can be reached at any time to meet all of our customers needs.
When Brummel Lawn & Landscape LLC began, we looked at the market and noticed the lack of customer service. At Brummel Lawn & Landscape LLC, we want to set the standard that will lead this industry to better customer understanding and satisfaction.
We are proud of the level of education we have in the fields of turf and landscape. Both of our Turf and Landscape Managers have bachelors of science degrees in Horticulture. If we do not know the answer to a question, we will find the answer and get back to you within 48 hours. Anyone can mow and landscape, but we know that we do it the right way and serve you with the class and respect that you deserve.
We won't recommend anything that we wouldn't do or install in our own homes. Your dreams are ours and together we can make them happen! You will see the difference with Brummel Lawn & Landscape LLC with our professionalism, knowledge, and quick response to all your concerns!
Our Mission
Our mission is to deliver the finest customer service in our industry by providing unsurpassed responsiveness and workmanship in our field. We strive to provide first class lawn and landscaping services by employing an elite group of associates and building long-term relationships with our customers.
Privacy Policy
Protecting your personal information is important to us. To learn what personal data we collect and how we use it, view our privacy policy.
Refund and Return Policy
Thank you for using Brummel Lawn & Landscape LLC LLC. If you are not entirely satisfied with our services, we're here to help.
We will do what we can to make you 100% satisfied.
Damaged Items or Service Issues
If you received a damaged product or have an issue with a service, please notify us immediately for assistance at 816-525-8333.
If you have any questions about our Returns and Refunds Policy, please contact us via our online form or send an email to ContactUs@BrummelLawn.com.